For Pre-made Meals Please Order By Friday At Midnight
For Pick Up or Delivery Monday's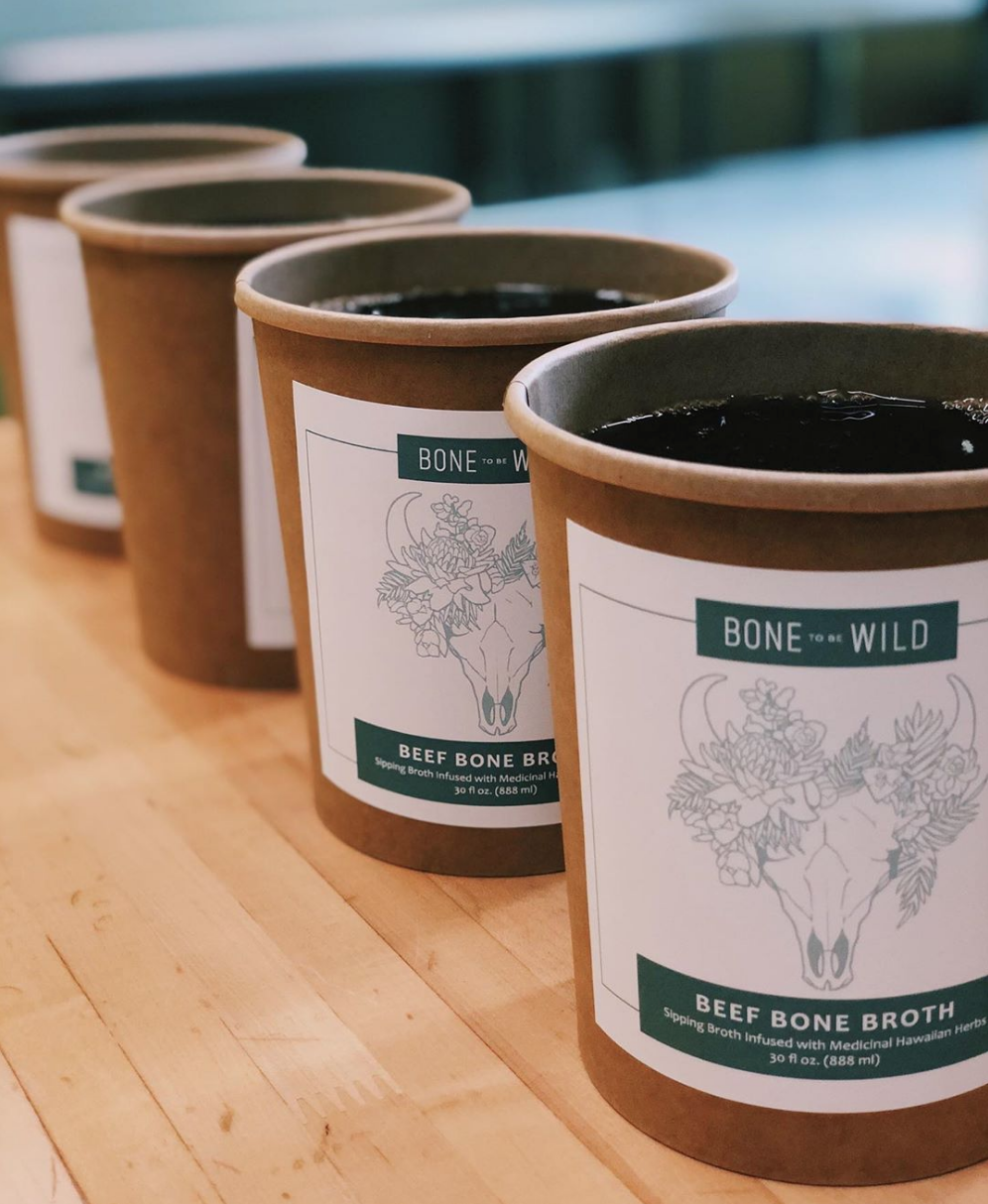 Bone To Be Wild Bone Broth
SKU 6752
Product Details
Bone To Be Wild Medicinal Beef Bone Broth
Chicken Only At This Time
30 fl. Oz
Comes Frozen
Add to any dish or sip all day!
– WHY SHOULD I DRINK BONE BROTH?
Bone broth is an easy delicious way to add a whole food supplement your diet.
– WHY SHOULD I DRINK YOUR BONE BROTH?
Besides the deliciousness, in comparison to other broths on the market, our broth has a very high concentration of all the beneficial nutrients contained in bone broth. We use 1 lb of ingredients per 16 oz of broth.
– HOW IS THE BEST WAY TO CONSUME IT?
Our favorite way is on an empty stomach as a sipping broth in between meals to keep your blood sugar levels stable and your energy high. For those who like to fast in the morning but also work out it's a great late breakfast to hold you over until lunch. It consists of easily absorbable high amounts of protein that get delivered efficiently into your system to make you feel great. Add a dash of chili pepper water and pink salt for a full flavor effect
– HOW ELSE CAN I USE IT?
There are all kinds of great recipes out there. You can make a soup out of it, or cook your rice and grains with it. You can even freeze it in ice cube trays and toss a cube in a smoothie
– WAIT BACK UP, ADD TO SMOOTHIES? LIKE FRUIT SMOOTHIES?
Ha, yes smoothies! It actually does not compromise the flavor of your smoothie but it adds tons of beneficial nutrients, like calcium, magnesium, potassium, and phosphorous. Not to mention the load of collagen and glucosamine that can help keep cartilage healthy and joint pain at bay.
– CAN YOU COMPARE YOUR BONE BROTH TO OTHER BONE BROTHS IN THE MARKET?
Our bone broth has the highest concentration of bones that we know of. Our chef, Adam, has been perfecting this recipe for years. We think it is the best quality and tastiest broth out there.



– WHAT IS THE PRICE DIFFERENCE BETWEEN YOUR BROTH AND OTHER BROTH?
Our broth is priced comparably to to other high quality broths on the market. We believe it to be a good value with no compromises.

– HOW DO YOU MAKE YOUR BROTH?
Our beef bone broth is slowly simmered for 48 hours using the highest quality organic ingredients. Chicken bone broth takes about half as much time to make because the bones are not as dense.


– WHO OWNS BONE TO BE WILD?
Kristal Muhich started this company in 2018. She wants to start business's that leave little trace on the planet while supporting local agriculture. Her favorite past time is learning how to manufacture products. Most of all, she loves providing her family and Kauai with healing foods.


– WHERE WAS THIS BUSINESS CREATED?
We started in Kapaa Town, on the small island of Kauai 2018


– WHERE ARE YOU LOCATED ON KAUAI?
We are only available online or at select retailers on Kauai. You can find us at all three Kauai Juice Co locations ( Kapaa, Kilauea, and Poipu ) You can also find us at Papayas Natural Foods and Hoku Whole Foods in Kapaa. As well as Healthy Hut in Kilauea.

– ARE YOU AVAILABLE ON ANY OTHER ISLANDS?
We can ship inter-island from our Kauai kitchen now, so if you love our broth but live on Oahu, Maui, or Big Island, you can order from our website as a single order or a subscription. The broth will ship frozen, overnight. We will also be attending events and demo-ing our broth at running events, paddling events, athletic clubs, yoga studios etc throughout the Hawaiian Islands. Check out our Instagram to find out where we will be.

– HOW DO YOU SHIP THE BROTH?
Broth can be purchased through our website and shipped anywhere in the state of Hawaii. Shipping costs go down based on the size of the order. We overnight ship via fed ex on Tuesdays only. If you live on Oahu you will receive your order on Wednesday, any other Hawaiian Island receives their order on Thursday. Order must be placed by Monday 10 am for Tuesday Shipment.
– CAN YOU SHIP TO THE MAINLAND?
Our goal is to serve out local Hawaiian community at this time. So we are focusing on that. Maybe in the future we can expand for for now we are keeping it a local hidden gem.
– WHY DO YOU SELL YOUR BROTH FROZEN?
Our broth contains no preservatives. Freezing is the most natural way to preserve it and keep the nutrients in tact without comprising quality.
– I JUST GOT MY BROTH IN THE MAIL.. . NOW WHAT DO I DO?
Defrost however much you intend to use within the next 7 days in the refrigerator. When ready to consume, heat on a stove top for pure drinking broth or add cold to your favorite recipe to boost nutrition.



– WHY IS THE BROTH SOMETIMES MORE SOLID AND SCOOP-ABLE AND SOMETIMES IT'S MORE LIQUID?
There can be a variance in the collagen consistency due to the fact that our bones are sourced 100% locally and no two animals are exactly alike. We pride ourselves on never adding any water to dilute our final product.
– WHAT DO I DO WITH BROTH THAT HAS ALREADY BEEN REHEATED ONCE OR TWICE?
If you heat the broth multiple times, the flavor and consistency will change. Always try to heat just the amount of broth that you intend to use and then chill quickly if you do have some leftover.


– ONCE I PURCHASE MY FROZEN BROTH HOW IS THE BEST WAY TO THAW IT?
Place your frozen broth in the refrigerator to thaw. Depending on your refrigerated it will be thawed in 24 hours. If you need to thaw quicker leave on the counter for 1-2 hours.


– WHAT IS THE SHELF LIFE OF THE BROTH?
After defrosting our broth is good for up to seven days when properly refrigerated. Frozen the broth is good for one year.


– WHY IS YOUR LOGO A COW SKULL WITH A HAKU LEI ON IT?
The skull and haku are intended to show honor for the food source. In Hawaii, you give someone a haku to show that they are special and appreciated. Bone to be Wild respects and honors the animals that make our broth that nourishes us, and our symbol represents that.
– DO YOU USE ORGANIC INGREDIENTS?
Yes yes yes. Can we get a Hell Yes?! All of our beef is sourced on the Eastside of Kauai from Wailua Meat Co. It is grass fed and grass finished with no hormones, antibiotics or other weird stuff. Our chicken broth is sourced from the only certified organic farm in all the islands, Puna Chicks. All herbs are locally and organically grown by farmers who we love and respect.
– ARE YOU USDA CERTIFIED?
Right now, we only sell direct to consumer so we are not subject to USDA inspections. Wailua Meat Company, where we source our bones is monitored regularly by the USDA. We are growing the business and someday wish to be available in retail outlets like grocery stores as well as direct to consumer so we are growing with USDA inspections in mind. All modifications we make to our production facility are done with the USDA guidelines in mind.


– ONLINE I NOTICED THERE IS SOMETIMES A LAYER OF FAT ON THE TOP OF PEOPLES' HOME MADE BROTH. WHAT IS THAT AND WHY DON'T YOU HAVE IT?
We remove the majority of fat before packaging so that you don't have to. Our commitment to you is to provide a clarified, nutrient dense broth.
– WHY DON'T I JUST MAKE IT MYSELF? SEEMS SO MUCH CHEAPER…
Bone broth is not difficult to make but it also doesn't taste great unless you add some medicinal and aromatic herbs. Chef Adam has perfected a consistently delicious flavor profile with the added benefit of organic herbs which we can source cheaper than any individual because we buy routinely from the same farmers. Cooking the broth is also time consuming if you want to make sure you are getting all of the benefits from the marrow. The long slow cooking process will heat up your whole house for a couple of days. Maybe not so bad if its snowing outside, but here on Kauai where it is always warm, we'd rather be at the beach. Making broth is a time and energy intensive process. If you leave it to us, we will keep you healthy and happy.


– HOW CAN I INCORPORATE MORE BROTH INTO MY LIFE?
So many ways! Most people start by using it as a nutritious, less salty soup base and they add their own veggies, noodles or whatever. Our broth makes an excellent snack between meals. Our broth is clarified almost to the same consistency of tea , so don't be surprised if you find that you like drinking it cold. Share your broth ideas with us on Instagram! We truly believe our broth has life-enhancing properties and we want to share it with the world.
– CAN YOU EXPLAIN TO ME SIMPLY WHAT THE 'HEALTH BENEFITS' ARE?
There are many benefits to bone broths. Our broth is a great source of protein and low in carbs. Bone broths aid your immune system, digestive system, and help restore your gut lining. Bone broths help to stabilize your blood sugar levels and regulate sleep hormones. Bone broths also have lots of collagen to keep your skin elastic and glucosamine that can help keep cartilage healthy. Bone broth is very high in the anti-inflammatory amino acids glycine and proline. This is really just the beginning, we LOVE bone broth.
– TELL ME ABOUT GUT HEALTH AND WHY EVERYONE IS TALKING ABOUT IT?
Medical studies show that a healthy gut biome can aid in many of your body's metabolic functions. An unhealthy diet and some commonly used medicines can damage your gut health. Once depleted, it can take years to rebuild the biome. Regularly ingesting bone broths and probiotics help your gut to function as nature intended and this will increase your overall health. You will feel full but not bloated. You will have increased energy and stamina. You will also sleep better. Be good to your gut!
– WHAT DO YOU BELIEVE IS THE MOST IMPORTANT THING ABOUT DIET AND LIFESTYLE?
A balanced diet consisting of whole foods in combination with regular activity and self care will lead to the healthiest life possible for any individual. At Bone to be Wild, we believe in the simplicity of bone broth for a healthy life. Greek physician, Hippocrates said it best. . . "Let food be thy medicine and medicine be thy food."
Save this product for later